9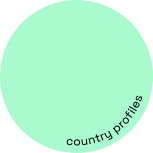 Country Profiles
Transparency relates to the degree to which information on the processes, procedures, assumptions, and limitations are disclosed in a clear, factual, neutral, and understandable manner based on clear documentation.
Calculating the carbon intensity factors associated with personal consumption is a new approach to assessing an individual's climate impact.
Information needs to be recorded, compiled, analyzed, and make readily available to the consumers to attest to its credibility. Information regarding methodologies, assumptions, references, and data sources should be disclosed to enhance and establish good practices.
Here we share the country profiles presenting the carbon intensity factors per country based on the Open Standard framework for consumer carbon calculations; each profile indicates the approach used and explains the input data used for to estimate each carbon intensity factor.
Country Profiles
Denmark
Finland
Germany
Hong Kong
Italy
Mexico
Netherlands
Sweden
United Arab Emirates
Forthcoming Profiles
United Kingdom